Events, Specials and Links

The Arvigo Techniques of Maya Abdominal Therapy®
Self Care Training Level 1
Maya Abdominal Massage
Herbs - Nutrition - Meditation- Mind / Body / Spirit Healing
This 2.5 day workshop provides a review of anatomy &
physiology along with holistic approaches for self care.
Self Care Training prepares an individual to perform the
techniques on oneself and is a prerequisite for attending
Professional Care Training.
April 7-9, 2017
Wellsprings Acupuncture
30 Lyman Rd. Suite 7
Westborough, MA 01581
CEUs massage, acupuncture, midwives
For information and to register go to:
www.arvigotherapy.com or call
The Arvigo Institute at 603 588-2571.
Additional information through Christine Lee, RNCS, LicAc
508 626 0896 or ACUCHRISRN@AOL.COM

Jetali's Tears
There is nothing that teaches us how to love deeply with complete unconditional love than the bond between us and our beloved pets. Yet when that beloved friend/companion/love passes away, we are left with a deep need for connection with them once again. It is through this deep bond and a desire to comfort others that have lost that beloved one, that Jetali's Tears were born. Here's the story, in Donna's (the creator) own words:
Pets are a significant part of our lives. They love unconditionally, and listen to whatever you want to tell them with open hearts and soulful eyes! When they die, they leave a huge hole in our hearts that never quite heals.
Many of us have had little things happen in life, after our pets have gone, that we don't really understand, or have an explanation for.......that fleeting sense that you could swear you saw Brady (our Golden Retriever we lost last June) out of the corner of your eye.......or you stopped dead in your tracks because you just heard Meyer (shepherd/lab mix who died in 2005) whine for a biscuit for a long time after she was gone. It leaves us with an ache in our hearts, or a tear in our eye.
About a year and a half ago, my friends, Pat and Sue lost their 6 year old German Shepherd, Jesse, unexpectedly. Jesse had made quite a name for herself in the Search & Rescue world. In December 2013 she received the American Kennel Club Award for Canine Excellence in Search and Rescue. She died just days later on Christmas night, leaving Pat and Sue devastated and distraught.
Jesse spent a lot of time on the beach with Rocket, Pat and Sue's other German Shepherd. About 6 months ago, Pat noticed that whenever she and Rocket got to the bottom of the stairs to go out on the beach, Rocket would perk up, ears listening. He would run off along the beach like he used to with Jesse. One day Pat said to me, "This is going to sound crazy, but I swear Jesse is here on the beach with us. I feel her here." Having been involved with energy work for quite a long time, and having had some interesting experiences of my own, I didn't think Pat was crazy at all. "Talk to her" I said......"let her know, you know, she is there." So Pat talked to her. From that point on, Pat started finding heart shaped rocks on the beach. There had probably always been some heart rocks on the beach, but now she was finding more and more. It gave her a good feeling and a sense of peace in her heart. She felt a connection to Jesse. We both felt it was Jesse sharing her love. I was compelled to wire wrap these rocks. I never wire wrapped anything or made any jewelry before, but I just had to do this.
While this wire wrapping was getting started, our friend Dawn had to say good bye to her 4 year old female German Shepherd, Tali. Tali was Dawn's rock after losing her husband. Tali was Rocket's mate, and the mom to our 2 year old German Shepherd, Finn. She lost her 2 year battle to lymphoma. This was a heartbreaking and huge loss to another friend. Dawn and Tali used to walk the beach collecting sea glass. Pat and Dawn sent me sea glass and I started adding some to the heart stones I was wire wrapping, along with some beads. As of today, Pat, Dawn, I and 2 other people have these special wire wrapped stones. We all feel the stones/rocks bring peace, love from those pets we have lost, and a sense of comfort. I was encouraged to make more.......and so Jetali's Tears was born. Love from 2 very special German Shepherds. A very simple touch of nature, designed to bring peace and comfort to those who have lost that special 4 legged companion. Their love will forever live in your heart! -Donna Jacobsen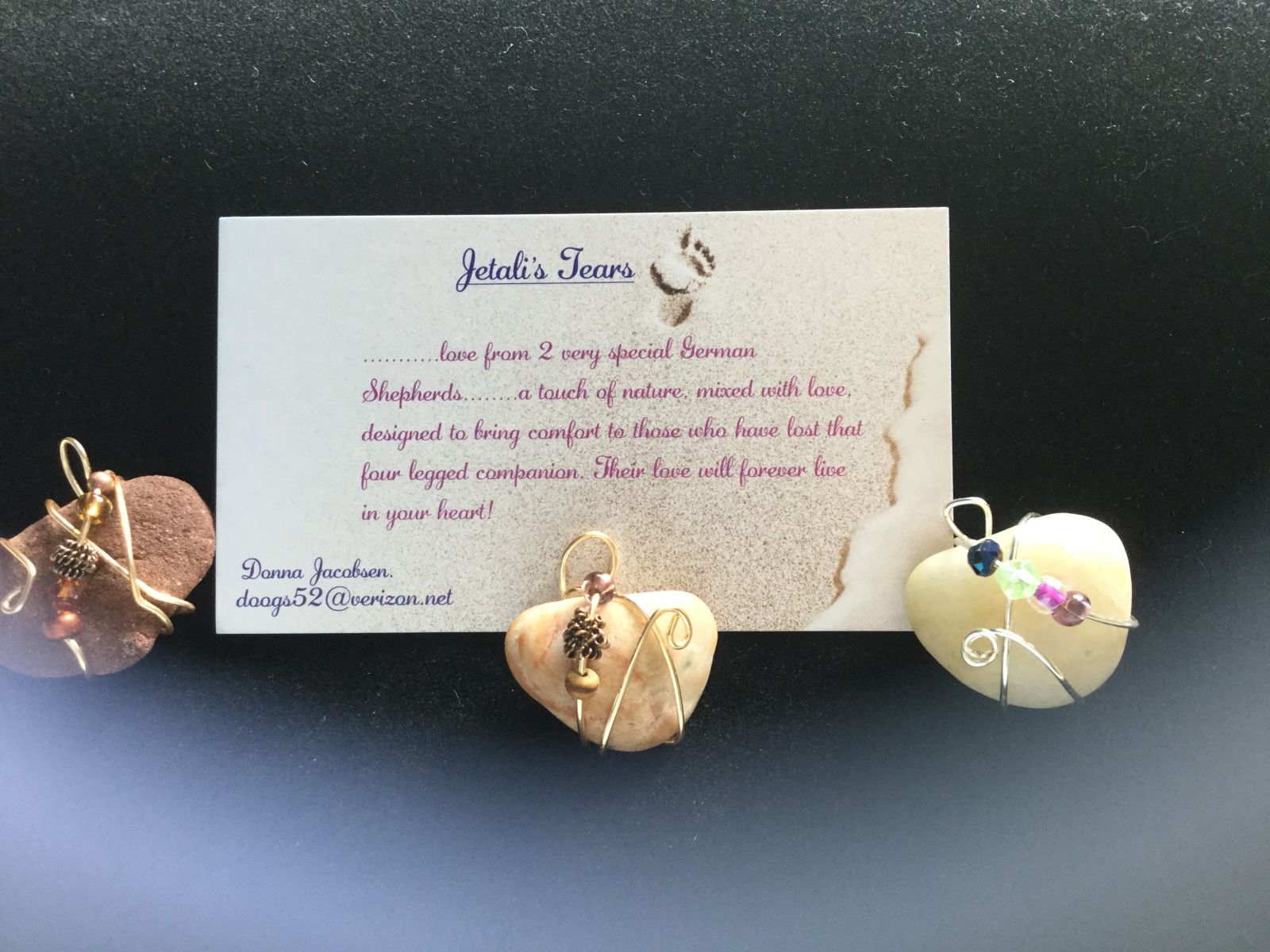 We are honored and excited to bring you these beautifully touching necklaces and pins. Ranging in price from $15 - $25 with seaglass, beads and wrapped within antique bronze, silver, or gold plated wire -- These beautiful little gems forever honor and celebrate that special love and bond. We have a selection within our NEW retail section. Come by soon and check them out!
We always celebrate our children's birthdays, but as adults, we are so self conscious of getting older, we no longer celebrate the most important day of our lives- OUR BIRTHDAY. This day is truly OUR day. Yes, you may share this day with another who was also born on this day:
But there is only ONE YOU!
So Let us celebrate YOU! Let us honor YOU!
To Join the B-Day club- all we need is Your Name, Current E-mail Address and The DAY and MONTH of your birth.
Once you join the B-Day Club we'll send you a coupon to receive a 50% discount of ANY body treatment of your choice!
*offer good for only one Birthday treatment per year. Details and expirations dates will be listed on the coupon Birthday E-mail. Some exclusion may apply.
Picture Perfect
Do you have a photo of a beloved pet or favorite vacation spot?
Have you ever wished it could be made into a painting instead?
Lora also holds a BFA. She would like to extend to you an opportunity to have that favorite photo transformed into an oil painting!
Special conditions apply- the photo must be an original, one you have taken and cannot be one that is copyrighted or professionally taken.
Prices are based upon size of canvas panel chosen:
5x7 $25
8x10 $40
9x12 $70
16x20 $100
Other sizes may be available
for more details!